Are you feeling stuck in your Instagram content creation routine? Give yourself a break from the same old swipe up-style links, and explore something truly different with the Milkshake app. With its intuitive UI, simple customisation options, and plenty of link types to choose from, Milkshake is the perfect way to shake up that link in bio. Available on both iOS and Android, the Milkshake app is a fun, fast and easy website builder enabling anyone to make a stunning Insta website on their phone in minutes.
I reached out to the team and Madeleine Rochecouste from team Milkshake agreed to answer some of my burning questions about Link in Bio optimisation, Instagram trends and what to expect from the evolution of the industry.
Milkshake aims to empower go-getters and trend-setters by providing them with a fun, easy and beautiful tool to turn their ideas, hobbies and ambitions into a business.

Madeleine Rochecouste
You may be wondering how Milkshake stands out from other tools in the online space.
Milkshake App allows users to not only feature multiple links in their Instagram bio, but connect their online community with their very own bespoke and professional Insta website – which can be created entirely from their phone within minutes.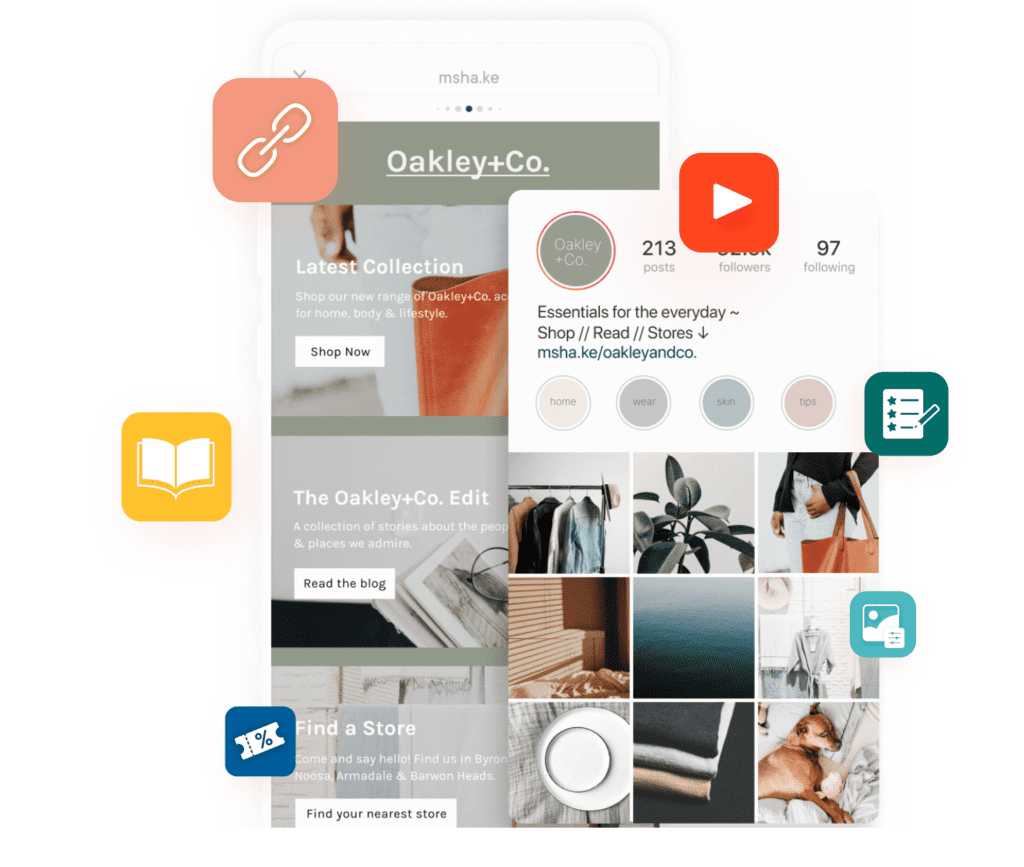 How the Milkshake app works
By creating a variety of different cards with different purposes, it allows users to easily break down what they want to say, sell and share with their community without overwhelming them. As a bite-sized website, we wanted to make it as simple as possible for users to highlight all they had to offer in a fun, easy and consumable way.
When building a Milkshake Insta website, you can choose from our About, Links, Top Picks, YouTube and Splash Cards. Each card has its own objective, and it can be used for that objective or can be 'hacked' to work for any other you'd like.
On Milkshake App, you can personalise each of your cards with text, images, GIFs, YouTube videos, blog posts, podcast episodes, contact details, products, links and more.
Does the rise of link in bio tools mean websites are gone for good?
"Websites, no. However, as technology continues to evolve, there's no denying that the traditional method of building a website is becoming less relevant." highlights Rochecouste "Mobile website builders like Milkshake now make it easy for anyone to create a beautiful, professional, optimised website from their phone in minutes – without the need for desktops, design or web development skills."
While it's important to create a presence online, you don't want to create a website with no purpose or work behind it.
In this day and age, a website with a clear purpose and outcomes is crucial to start, grow, launch or share anything online. It's an online presence and perception that you can entirely create and control, which is both fantastic freedom and a big responsibility.
"We help our users make professional, smart and optimised websites with purpose, whether that be selling, watching, buying, directing, the list goes on" continues Madeleine.
"Milkshake Insta websites help users to create a professional online presence while still capitalising on where they get the most traffic – usually social profiles and especially Instagram – to convert their followers into brand fans."
Why is it important to have a top-notch Link in Bio?
When someone visits your profile, it's so important to harness that attention and direct it to the most valuable destination or action you want them to take.
An Insta website via the Milkshake App allows you to further extend your Instagram profile. You can focus on what you want to say, sell or share in an on-brand way, helping you to harness, grow and convert Instagram traffic.
When looking for more info about you, your followers want to feel like they're still on Instagram. They want to feel like they're still connected to your brand, business or profile. In fact, you don't want them to drop off simply because your website is too hard for them to navigate and access.
As Instagram allows you to add only one link to your bio. As a result, it's so important to make sure that website is designed for Instagram's mobile web browser and optimised. It will highlight the most important information and actions upfront.
That's why Insta websites are perfect for this. They're concise and optimised and primarily designed for Instagram's mobile web browser. They feel like a seamless extension of the platform itself. Our users have already done most of the work by building their Instagram presence and community. Somewhat, an Insta website is simply the cherry on top.
Mistakes people make in their bio
The biggest mistake people make with their link in bio is not heroing their most important content upfront.
When optimising your link in bio, it's so important to ensure you're highlighting your best content front and center to entice visitors from the get-go.
It's also key to ensure your content is on-brand. People click on your link in bio to learn more about you, your business or your brand. As a result, you don't want them to feel lost or unable to identify you.
You never get a second chance at a first impression, but with a Milkshake Insta website, you won't need one.
The rise of short-form video and TikTok
Definitely. However, I still see Instagram as Instagram and TikTok as TikTok. TikTok is a short-form video, while Instagram has a broader range of content formats. They are two distinctly different platforms with different content, user bases, and user experiences. The real domination as a user is knowing how to use both platforms to work together.
TikTok is now allowing creators to directly link to their Instagram and YouTube channel, so even they see it is important to cross-promote and for their users to connect their followers to both platforms.
At this stage the two aren't necessarily comparable – it's important to be on both and to know the content that converts best. Both are platforms to create an audience, garner attention and direct that to outcomes you want to achieve – it just depends on what that outcome is.
For more info about Milkshake don't forget to check out the iOS App or Android App
Ready to get started with positive impact marketing?
Set up power marketing systems build a marketing strategy that drives results, when you join our certification.
Develop an advanced set of marketing skills that drive more measurable results to any project and harness the power of psychology, purpose, storytelling, and impact to build trust in an increasingly skeptical world.
Take our certification, build your marketing plan and build your ultimate marketing toolkit.