Have you ever considered how user-generated content (UGC) strategy could contribute to your marketing success? If not, it's time for a shift in focus!
With the explosion of social media platforms and online influencers, UGC has become a game-changer for businesses – both as a powerful marketing tool and a way to engage with your audience.
So let's get to it! Our guide will walk you through the amazing benefits of UGC and give you all the steps you need to build an effective marketing strategy that boosts brand awareness and converts customers.
What is UGC marketing?
UGC marketing is an incredibly powerful content marketing tool that allows you to tap into the potential of user-generated content to promote your brand.
User-generated content, or UGC, encompasses all types of content created by your customers, creators (or even team members) about your brand, such as content on your social media, reviews, photos, and videos. By leveraging user-generated content into your marketing, you can effectively engage with your audience, establish trust and credibility, and ultimately drive sales.
Here are three types of User-Generated Content (UGC) you can leverage for your business:
Customers: Customers can provide a wealth of content, including reviews, testimonials, blog posts, social media posts, and more. Encourage your customers to tag you in posts or use a hashtag specific to your brand to make it easier for you to find and share their content.
Content Creators: Influencers, bloggers, and other content creators can also provide valuable UGC for your brand. Work with them to create sponsored posts or other types of collaborations that feature your brand in a positive light.
Employees: Your employees can be a great source of UGC, especially for behind-the-scenes content. Employee-generated content can include photos or videos of company events, day-to-day work, or other company-related activities. Just make sure to get their permission before sharing anything publicly.
The beauty of UGC lies in its ability to foster deeper connections with your audience and set you apart from your competitors. Brands with strong user-generated content are more likely to earn the trust and loyalty of their customers, leading to increased sales and success.
What makes a UGC strategy so effective?
User-generated content is so effective mainly because it feels authentic and relatable. We trust content created by customers as it's just everyday people sharing their experiences and opinions. And because it's created by the users themselves, it's also incredibly diverse and varied.
You'll find everything from heartfelt testimonials to hilarious memes, depending on the platform and the community. User-generated content also has a certain sense of trustworthiness and help create a winning strategy. After all, if so many real people are sharing positive experiences, it must be because they genuinely believe in what they're talking about. That is the best user-generated content out there.
This kind of social proof can be a powerful tool for businesses, especially when it comes to influencing purchasing decisions. Overall, user-generated content is effective because it's genuine, varied, and trustworthy. Plus, it's a lot more fun to scroll through than a corporate ad campaign!
Creating a User Generated Content strategy that converts
User-generated content (UGC) is a powerful tool that brands can leverage to engage their audiences and grow their following. Some businesses have truly embraced UGC and incorporated it seamlessly into their marketing strategies. The trick is create amazing campaigns to aim for high-quality user-generated content.
National Geographic's Wanderlust Contest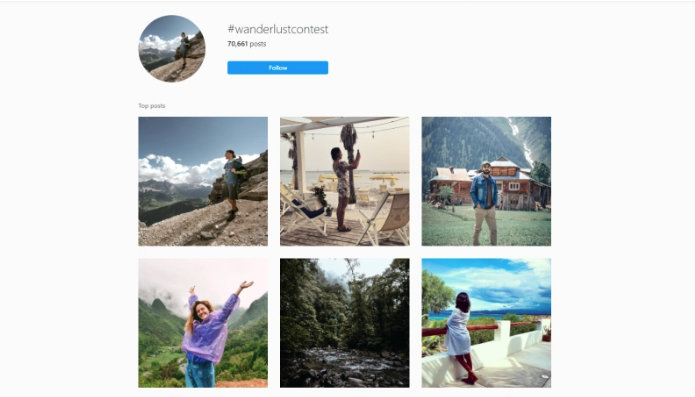 National Geographic got into the game and pulled off a genius social media campaign that led to a boost in followers and a sky-high engagement rate.
The Wanderlust Contest inspired people to step outside and capture amazing nature photos in a creative and thrilling way. Users just had to share their best shot using the #WanderlustContest hashtags, and boy, did they get a lot of takers!
The payoff was worth the effort because the winner received an epic 7-day trip for two to explore Yosemite National Park – a nature lover's paradise with stunning views and perfect picturesque shots like the ones taken by contest participants. National Geographic does it again!
Shot on iPhone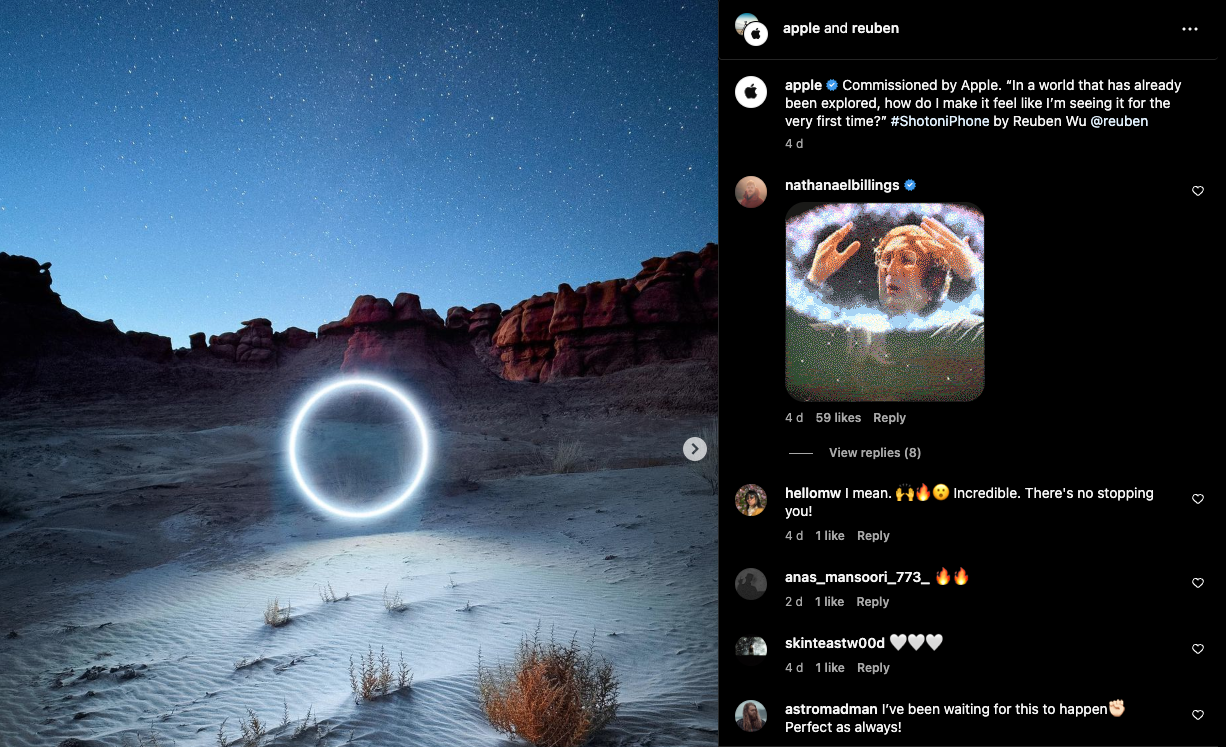 Apple listened to its customers and realised that they were not satisfied with the average camera capabilities of pictures in low light. So to bring attention back to what makes an iPhone special, the company launched a creative campaign called "Shot on iPhone."
The campaign was a big deal for Apple, and pro users were impressively taking photos in low light using their iPhones and posting them online for others to see on YouTube under "Shot on iPhone."
This campaign was all about showing off the wonderful everyday visuals that can only be captured using Apple's amazing lens – The iPhone camera. And let's be honest, who doesn't want to take amazing photos with their phone?
Chobani's Flip
Yogurt brand Chobani is taking a modern approach to getting the word out about a new product called Chobani Flip. On their TikTok profile, Chobani has created multiple videos promoting the challenge and re-using challenge content.
Adobe's Art Maker Series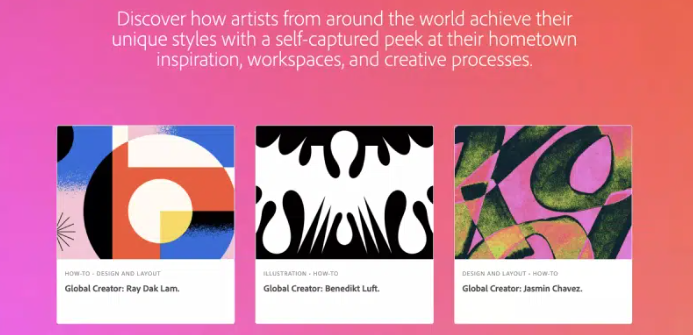 Adobe, the bigshots in design tools, decided to raise the bar and use a cool hashtag to promote creative designers and artists. The idea was simple: Adobe invited creative designers to show off their skills in quick-paced videos using any Adobe program like Illustrator, Photoshop, etc. and share their original artwork.
Talk about creating excellent user-generated content for businesses with a creative target audience! The company used this content to create user suggestions, product marketing, and specialist endorsements. And today, you can see all this great work on Adobe's Creative Cloud program under the Global Creators label.
And let's not forget the hashtag #AdobePerspective, which gave privileged designers a platform to showcase their original works and those of other users as well. Adobe saw this as an excellent chance to interact with people from different groups and communities with an interest in the creative arts.
4 common types of user-generated content
Social Media Posts: Content created and shared by users on social media platforms like Facebook, Instagram, Twitter, LinkedIn, and more.
Reviews: Comments or evaluations about a brand, product, or service that users write on review sites like Yelp, Tripadvisor, or Amazon.
Photos: Images taken and shared by users showcasing their experiences with a brand or product.
Videos: User-created video content that typically includes information, demonstration, or opinion on a product, service, or brand. Videos may be shared on platforms such as YouTube, Instagram, or TikTok.
Don't be afraid to experiment with UGC and see what exciting new ways you can incorporate it into your campaigns!
Do you have to get permission for user-generated content?
If you're looking to use user-generated content in your marketing, it's important to get permission from the creators first. Not only is it the ethical thing to do, but you can also avoid any legal issues that may arise. So how can you go about getting consent from your audience?
One option is to include a message in your social media or website bio stating that you may use user-generated content, and to direct anyone who doesn't want their content to be featured to contact you.
You can also reach out to individual creators and ask for their consent, making it clear how their content will be used and crediting them appropriately.
Whatever method you choose, be respectful and transparent with your audience – it goes a long way in building trust and goodwill.
Track the performance of your user generated content strategy
Have you ever wondered how your user-generated content (UGC) campaigns are really performing?
With so much content being created and shared online these days, it can be tough to keep track of how your UGC campaigns are impacting your business. But don't worry, there are ways to monitor your content across channels and measure their success.
By tracking metrics like engagement rates, follower growth, and website traffic, you can get a better understanding of how your content on your social is resonating with your audience.
How do you analyse and measure your user-generated content marketing efforts?
Engagement rate: This metric calculates how many people interacted with your UGC content. This includes likes, comments, shares, and other types of engagement. The higher the engagement rate, the more successful your UGC campaign is at getting people engaged.
Reach: How many people saw your UGC content? Reach is a measure of how many people share user-generated content. Higher reach is generally better, as it means your customer content is getting in front of more people.
Click-through rate (CTR): How many people clicked through to your website or landing page after seeing your UGC videos? CTR is a measure of how effective this kind of content is at getting people to take action. A higher CTR generally means your UGC is more effective at driving traffic to your website.
Conversions: Lastly, conversions measure how many people took action after visiting your website or landing page. Conversions could include purchases, sign-ups, or any other action you want users to take. A higher conversion rate suggests that your user-generated content campaigns are driving meaningful action by users.
Plus, by paying attention to which types of UGC are performing best, you can fine-tune your strategy and make your campaigns even more effective.
Incorporating user-generated content in your strategy
By leveraging UGC, you can increase engagement, build trust, and show that your brand is authentic. But where do you start? Here are four steps to help you develop a plan for finding and leveraging existing UGC.
Firstly, define your goals and audience. Who are you trying to reach and what do you want to achieve?
Secondly, identify the platforms where your customers are sharing content, such as social media channels, review sites or forums.
Thirdly, monitor and track UGC using social listening tools or setting up alerts.
Finally, engage with your audience by responding to comments, asking permission to share their content, or running contests that encourage UGC.
Incorporating UGC into your content strategy can help you build a loyal following and keep your brand relevant.
All in all, creating a UGC strategy that converts may seem like an overwhelming task. But with the right tools and strategies, it's well within reach for any marketer. UGC isn't just about gathering user content, it's about understanding why it works so you can use it to your advantage and boost conversions.
With a clear audience and strategic plan in hand, you're ready to take on this challenge and craft an effective user-generated content strategy that stands out above the rest. And who knows – you might even have some fun along the way!
Ready to get started with positive impact marketing?
Set up power marketing systems build a marketing strategy that drives results, when you join our certification.
Develop an advanced set of marketing skills that drive more measurable results to any project and harness the power of psychology, purpose, storytelling, and impact to build trust in an increasingly skeptical world.
Take our certification, build your marketing plan and build your ultimate marketing toolkit.